How to use the eyeglasses holder straps?
Slide the plastic holder at each end of the string to the ends of the eyeglass arm. Some glasses retainers have pockets at the end of the line instead of plastic retainers.The pockets cling to the arms of the glasses. Tie the string around your head and put your glasses on. Have the rope tied around your neck and your glasses in front of you. If you want to take your glasses off for a while, hold them over your chest and release them so they can hang on the cord.
Choose the right frame for your face.
People who have bought glasses in a physical store usually know what kind of frame fits them. Do not blindly choose vintage-style glasses according to your preference. Measure the distance between the temples of your old glasses so that the new ones are comfortable to wear. The General online glasses style is very rich. Because there is no shop rent and middlemen, the price is much cheaper than the traditional glasses shop.
What color lenses are good for driving?
The optometrist reminded us that it is not advisable to choose pink, purple, light blue, and other colors with obvious decoration effects for driving sunglasses. These colored glasses basically cannot protect the eyes. In addition, they may change the color and cause chromatic aberration. Generally speaking, you should wear brown and gray glasses when driving. The brown lens can filter out a lot of blue light, which can effectively improve visual contrast and clarity. The gray lens can absorb any color spectrum in a balanced manner and will not produce obvious chromatic aberration after wearing.
Nowadays, the colors of lenses for sunglasses on the market are dazzling. Many people only consider whether they look good when choosing colors, and do not pay attention to the impact of lens colors on vision. When choosing sunglasses, we should not only pay attention to their decoration but also pay attention to their protective function for the eyes. We should avoid using blue lenses when driving because it will make us unable to distinguish the color of the traffic signal lights.
What Is an Aspherical Lens?
An aspheric lens is a lens whose surface profiles are not portions of a sphere or cylinder. In photography, a lens assembly that includes an aspheric element is often called an aspherical lens.
The aspheric lens's more complex surface profile can reduce or eliminate spherical aberration and also reduce other optical aberrations such as astigmatism, compared to a simple lens. A single aspheric lens can often replace a much more complex multi-lens system. The resulting device is smaller and lighter and sometimes cheaper than the multi-lens design.
Aspheric lenses are flatter than traditional lenses, but they still offer the same vision-enhancing benefits. They have a more attractive profile because there is less curvature. In addition, aspherical lenses have a more complex front surface with a gradual curve so that they can perform better by improving the way light refracts onto the retina.
Besides, most aspherical lenses are high-index, which, when combined with the aspheric design, offers a slimmer and lighter option for people who wear glasses so as to improve the look and feel.
What Is Polycarbonate Lens?
Polycarbonate was developed in the 1970s for aerospace applications and is currently used for the helmet visors of astronauts and for space shuttle windscreens. Polycarbonate lenses were introduced in the early 1980s in response to a demand for lightweight, impact-resistance lenses. Since then, polycarbonate has become standard for safety glasses, sports goggles, and children's eyewear.
Polycarbonate glasses are thinner and lighter than regular plastic lenses. They provide 100% UV protection and are up to 10 times more impact-resistance than plastic or glasses lenses. Polycarbonate glasses also offer clearer and more comfortable vision if an anti-reflective coating is applied to the lenses, which can eliminate distracting lens reflections that interfere with vision, particularly when driving at night or in other low-light conditions when glare sources are present.
However, polycarbonate lens is a naturally soft material, making it more subject to scratching without adequate protection with a scratching-resistant coating. Polycarbonate glasses have high dispersion due to its low Abbe value of 30, causing chromatic aberrations.
Where to Buy Bifocal Glasses?
However, if you want to get a pair of bifocal glasses, you can purchase them from Koalaeye Optical. Koalaeye Optical is an online optical store and provides all kinds of glasses, sunglasses and frames, such as blue light blocking glasses, wrap around glasses, progressive glasses, polarized sunglasses, and so on. So, if you need a pair of bifocal glasses, try Koalaeye glasses.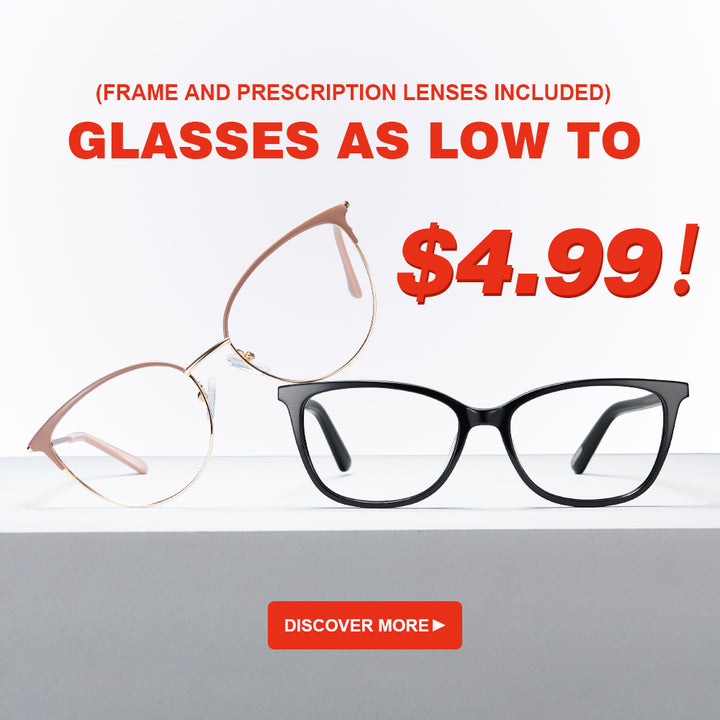 What Are the Disadvantages of High-Index Lenses?
This section will show high index lenses disadvantages.
High index lenses are made from a chemical synthetic blend that's created through a special manufacturing process. So, high index lenses are expensive than regular lenses. In fact, the price may be more than double that of the traditional counterparts.
High index lenses can be more brittle than their traditional counterparts and may also be more prone to scrapes and scratches. This can impact their overall durability.
High index lenses are more reflective than regular lenses, which can make them less effective for brightly lit work environments, outdoor use and nighttime driving on busy highways.
High index lenses have greater potential for distortion, particularly in your peripheral vision because the high index lenses have a higher Abbe value than prescriptions made from standard plastic or glass.