Madeline
Two Tone Glasses Black and White
Oversized two tone glasses frames can match almost any kind of style, from classy to cute. A pair of oversized two tone round prescription glasses are the perfect choice to make a strong first impression. This style is fun and friendly — perfect for projecting the best parts of your personality. The variety of unique oversized eyeglasses we have is extensive. With so many choices, including oversized clear glasses, it can be hard to narrow down which big glasses are the right choice for you. A good place to start is these fashion-forward favorites.
The classification is different.
Acetate frames can be divided into two kinds, one of which is the lens using acetate fiber processing of plate cutting. The other is the injection frame. It uses acetate fiber particles. Acrylic acid is a kind of unsaturated organic acid, which can be derived from a series of compounds to form a large class of acrylic products. Acrylic acid downstream products contain common acrylate and special acrylate. It has the characteristics of heat resistance, weather resistance, aging resistance, strong adhesion, water resistance, acid and alkali resistance, stickiness resistance, and environmental friendliness.
How Long Does It Take to Get Used to New Glasses?
Most people are excited when they get a new pair of glasses for the first time. But sometimes there is an adjustment period before your vision is fully comfortable. So, how long does it take to get used to new glasses?
In most cases, it takes only a few days to adjust to a new pair of glasses. When you are adjusting to your new glasses, you might experience some symptoms such as mild dizziness, blurry vision, or eye strain. This would be a normal situation. These symptoms are common with new glasses and typically last only a few days.
Even though the new glasses come with the same prescription, different frames or lenses can alter your vision until you get used to the new frame style, frame material or lens type.
Besides, other factors will affect the adjustment time, such as the complexity of your prescription, the type of lens, and so on.
How long does it take to adjust to new glasses? It usually takes a few days. However, if you experience eye strain, distorted vision, and especially headaches for a few weeks, you had better contact the eye doctor or the optician. They will check your eyeglass and the prescription.
What is the best lens material?
The world's first resin lens was made of CR-39 material, and CR-39 is still the main optical lens material in Europe and the United States. After the end of World War II, people found that compared with glass, the main lens material at that time, the light transmittance of CR-39 is high, and it can block ultraviolet light. In addition, CR-39 can be dyed, not easy to fog, and has small dispersion (CR-39's Abbe number is 58) and other benefits.
Artisan Optics
The glasses selection provides a different frame shape, size, and color. Their lens selection provides the most progressive technology for better vision. In terms of comfort, the glasses are wonderfully constructed, made of quality materials, and the weight of the frames is greatly balanced. Choosing the right color will increase some versatility and style in your wardrobe. The combination of acetate and metal provides the appearance of acetate frames with the lighter weight of metal frames for comfort. Artisan Optics does not provide poor quality, lackluster glasses, but high-quality glasses that customers like to wear.
What kind of frames can working women choose?
If you are a heart-shaped face, the selection of the frames is different. Of course, to look relatively stable and mature, you can choose some simple frames, like square frames. You can choose gold or black gold, black silver line. Or the kind of slightly Japanese style of small round one, looking more literary and young. The frame can choose pure titanium, relatively light and quality will be better. The choice of the frame should be carried out according to the different working environments. If you are a teacher or doctor, you should choose low-key, elegant frames. If you're a freelancer who needs to show off your personality, you can pick up trendy frames.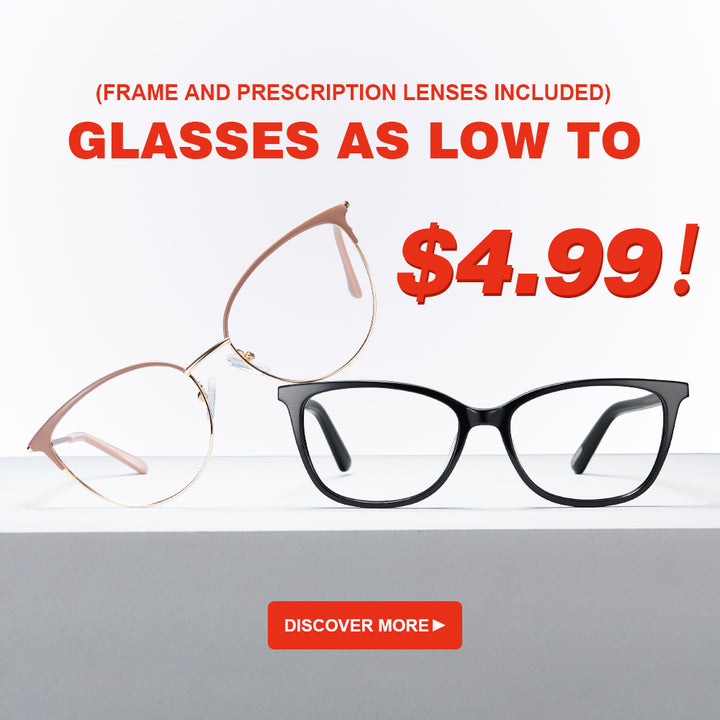 How to test a blue-light lens?
Blue light-blocking glasses have many membrane layers, and all kinds of colors of the film are not the same. Actually, the membrane layer of anti-radiation effects is not large but has high strength and chemical resistance of lining norm of glasses and the effect of protection for the eyes is very important.