Can clear lenses be polarized?
At present, there are no clear polarized lenses. A polarized lens is a thin film vertically arranged with silicon crystal coating placed inside the lens, just like a shutter, which covers the parallel light and only allows the vertical light to pass through. In this way, the glare from all directions can be eliminated, so it is clear and comfortable to wear. Transparent polyamide, the material of nylon lens, is a new variety of polyamide. The material of the nylon lens is mainly transparent polyamide. Due to the effect of the light filter, only light from a specific direction is allowed to pass through the lens, which filters the dazzling light from the sun on the water, land, or snow very well. It can not only make the landscape soft, clear, and natural but protect the eyes to a certain extent.
DebSpecs
It is probably the oldest online reading glasses store on the Internet. It offers the best optical quality reading glasses, computer glasses, prescription glasses frames, bifocals, sunglasses, foldable glasses, magnifying glasses, and eyewear accessories. A complete range of accessories is sold, including glasses cases, glasses holders, chains, magnifying glasses, lens cleaners, and cleaning cloths. Zero-power computer glasses are provided for the younger generation. These frames can be customized to your optician's prescription.
The Pros of Progressive Lenses
In this section, we will show you the benefits of progressive lenses.
One of the major advantages of progressive lenses is that the design of progressive lenses blends the prescription. There is no image jump or visible line on the lens. This enhances your comfort with your lenses and can be safer when performing tasks such as driving.
With progressive lenses, you don't have to switch other glasses frequently. Progressive lenses correct distance, intermediate, and reading vision within one lens. So, it can bring you great convenience.
Wear blue light glasses before bed.
Because blue light can have a huge impact on your sleep cycle, these glasses are pretty important before bed. So, putting on blue light glasses before you go to bed can help increase melatonin, which in turn helps you get a good night's sleep. Sleep glasses display a wider range of blue light, which naturally helps you sleep better and triples melatonin production. They have a slight lens color because they target a wider range of light, but are best for sleeping. In addition to sleep glasses, there are nearly transparent optical glasses that filter out blue light levels to help treat digital eye strain, which is made up of headaches, blurred vision, and eye strain.
Why are titanium glasses so expensive?
Light Weight. The term 'pure titanium' means a titanium metal material with a purity of more than 99%. A mineral containing titanium was found in 1791, but pure titanium was not produced until 19. Pure titanium glasses are lighter than titanium alloy glasses. For frames of the same design or appearance, titanium frames weigh only half as much as other ordinary metal frames, reducing the load on the bridge of the nose.
Is Anti Glare Worth It?
Is anti glare worth it? To answer this question, you need to know the benefits of the anti glare glasses first. Anti reflective coating and anti glare coating offer many benefits and are definitely worth the extra cost, especially if you find yourself bothered by glare. They can help you see better, look better and feel better.
Here, we will list some of the benefits of the anti reflective coating.
They can improve your vision by reducing bothersome reflections and glare.
They can also provide comfort during prolonged computer use as the glasses for computer use.
They improve visual acuity by allowing more light to reach your eyes.
They can reduce the effect and symptoms of digital eye strain.
They make your eyes more visible behind your lenses.
They provide less glare when driving at night.
So, is anti glare worth it? From the above information, you can find that anti glare glasses or anti reflective glasses are worth the cost.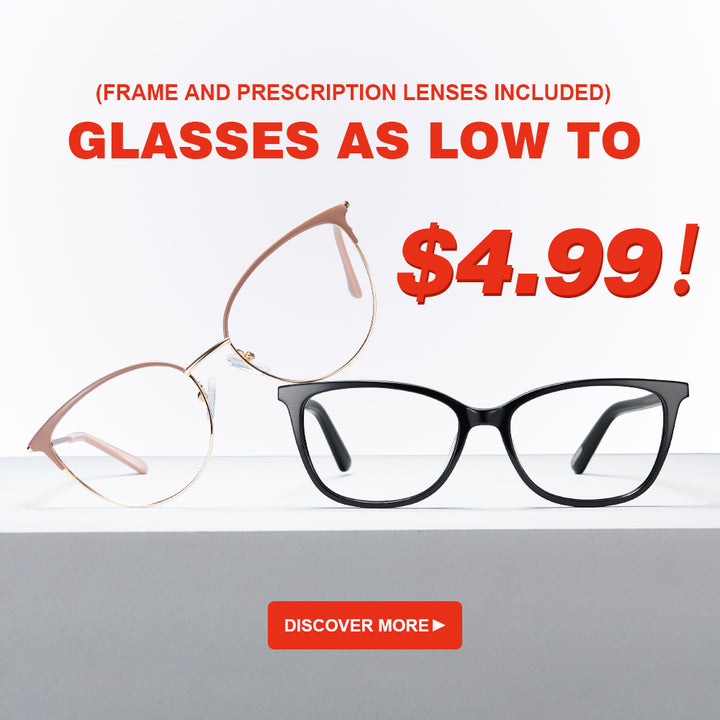 Oval frame
Soft and smooth lines, implicit and introverted, reflect the gentle and quiet fair maiden style. It seems that the first pair of glasses worn by everyone who is nearsighted is oval, basically in high school. It seems to have a student era of green implicit, quiet lady. Even in middle age, there are a lot of people who will choose a lot of beautiful styles of oval frames. It seems that in their hearts, they all want to stay young forever.