What is an aspheric lens?
Strictly speaking, any lens with a refractive surface that is not a sphere is an aspheric lens, including ordinary astigmatism lens, progressive multi-focal lens, Aspheric apical lens, etc. But customarily, our daily aspheric lens refers to the Aspheric apical lens. From the center of the lens to the periphery, the radius of curvature increases (the surface of the lens flattens out).
Rimless Glasses
This kind of glasses does not have a frame to wrap the eyeglass ring, only the metal nose pad, and temples, and the lens is fixed after being punched, which is relatively lighter. This kind of glasses is lighter and more fashionable and is the first choice for ladies in the workplace.
How much should a pair of prescription glasses cost?
Speaking of glasses, everyone's first feeling may be that it is not cheap to have a pair of prescription glasses. Just such a small pair of glasses, ranging from a few hundred dollars to a few thousand dollars. Why is the difference so big? So some people go online to buy glasses for dozens of dollars as if they look the same. But is it actually the same? There are a lot of differences between the glasses for dozens of dollars and for thousands of dollars, apart from the price. Also, you should be responsible for your own eyes.
Better glasses brands will adopt better designs to ensure beautiful appearance and structural safety, and have stricter quality standards. At first, these glasses are not cheap because the cost has increased a lot. In addition to the brand, different materials, process requirements, and mass production scale will also affect the cost and thus the final selling price. As for the question of what price glasses to choose, my suggestion is to choose the high-priced one within your budget. So, to choose a suitable pair of glasses, what aspects need to be considered?
Prescription glasses are more comfortable to wear than other glasses for visually impaired people. For example, there exist bulky protective glasses designed to be worn over existing eyeglasses. There are protective glasses with prescription lenses for the visually impaired, for example. You can consider wearing prescription glasses while driving at night. When driving at night with these glasses, you will feel safer and more comfortable. Even if you feel like you're a skilled, capable driver. Driving glasses can be an investment. But that being said, it's better to invest in night-driving glasses now than to pay the price later.
How to choose frames?
Of course, the best way is to try it on many times. The visual effect is more direct and reliable than trying on. Spend more time and you can find your own style suitable for you.
In addition, where comfort and aesthetics permit, choose the size as large as possible so that the view will be larger. However, there are some optometric parameters that limit the selection of frames. For example, if the pupil distance is very small, choose a size that is too large is not suitable. Try not to choose the product with spray paint on the surface, because durable time is shorter.
You should pay special attention to that TR, plastic steel, stainless steel, wood, β titanium glasses temple may not be adjusted. When trying on, it should be noted that the weight of the lens has not been added to the trying frame, to avoid the problem of discomfort (such as an easy slip of the frame) found after the preparation.
How to choose blue light blocking glasses?
While trying it on, look at the electronic screen from a distance to see if it stimulates your eyes. Holding the glasses in front of a display screen or under an LED light to see if they reflect blue light on the surface of the lens. It shows that blue-blocking glasses can block blue light. The special blue light flashlight shines on the white cardboard through the lens, the blue light that passes through the blue-blocking lens is noticeably dimmed, while the blue light that passes through the normal lens is not changed at all, which is what the blocking blue light does. You can go to a professional eyeglass shop to detect instruments through the spectrum of professional authority, and the best blue light blocking rate is between 60%-70%.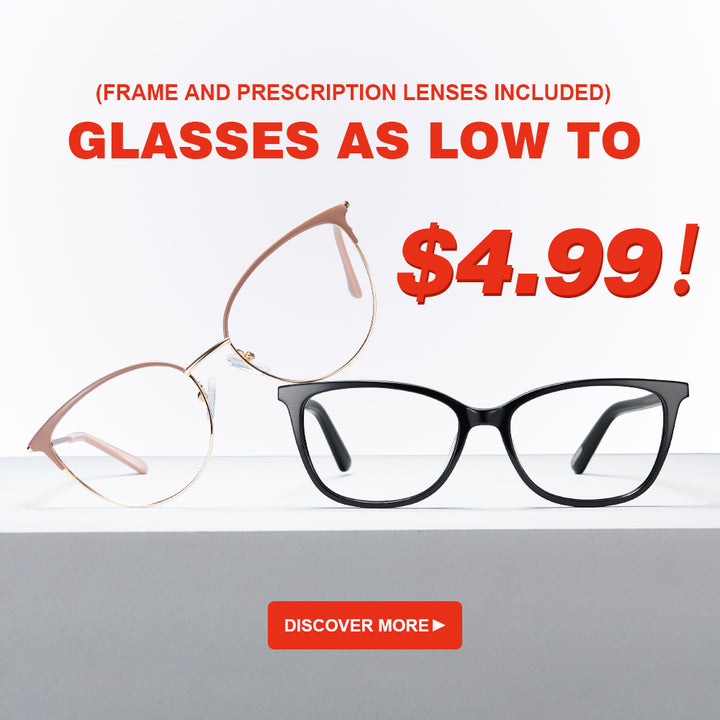 What color lenses are good for driving?
The optometrist reminded us that it is not advisable to choose pink, purple, light blue, and other colors with obvious decoration effects for driving sunglasses. These colored glasses basically cannot protect the eyes. In addition, they may change the color and cause chromatic aberration. Generally speaking, you should wear brown and gray glasses when driving. The brown lens can filter out a lot of blue light, which can effectively improve visual contrast and clarity. The gray lens can absorb any color spectrum in a balanced manner and will not produce obvious chromatic aberration after wearing.
Nowadays, the colors of lenses for sunglasses on the market are dazzling. Many people only consider whether they look good when choosing colors, and do not pay attention to the impact of lens colors on vision. When choosing sunglasses, we should not only pay attention to their decoration but also pay attention to their protective function for the eyes. We should avoid using blue lenses when driving because it will make us unable to distinguish the color of the traffic signal lights.