Recommended Glasses for Heart Shaped Face
Wayfarers frames: to balance out a wider forehead is by finding frames that have wide, prominent endpoints that extend out past your temples. This can draw the gaze up and away from your cheekbones, making your eyes the focal point. So, the wayfarers frames are recommended.
Cat-eye frames: if you do not know how to choose the best glasses for heart shaped faces, you can try the cat-eye frames glasses. They can be quite versatile and help contour your face, either balancing or highlighting prominent features.
Aviator frames: the last glasses for heart shaped face we want to recommend is the aviator glasses. They can work to draw the eye downwards and flatten the bottom part of your face. The aviator frame glasses can also add a balanced look and soften prominent angular features.
How to protect rimless glasses?
With the continuous improvement of people's living standards, many people begin to pay attention to their quality of life. In the past, many people thought that wearing glasses was for correcting eyesight glasses, but now more and more people use them for decoration, and rimless glasses meet the needs of consumers. Because of its light structure, giving people a sense of fashion, so it is loved by many business people. So how do you protect your rimless glasses?
How long does it take to get used to progressive lenses?
Because the adjustment of each eye is different, so there will be some differences in the adaptation period. It usually takes about two weeks to get used to it. Probably many young people are familiar with this kind of lens, so they adapt to them for only a week or so and can restore the normal visual effect. If it's been two weeks and you still feel that you can't see clearly, or you have the feeling of nausea, etc., then you need to test and adjust. You need to go to the hospital to see the specific case, to find out whether it is a quality problem of the sunglasses, or there are some artificial reasons. If there is a problem, we should also replace the lenses in time, otherwise, it may lead to the problem of visual fatigue. Therefore, it is still necessary to promptly confirm the case of optometry, and then replace the appropriate glasses.
What should drivers notice when wearing polarized glasses?
Many drivers like to wear polarized lenses. Indeed, the polarized lens can reduce strong light, eliminate glare, so that the line of sight is natural and soft, but the polarized lens is more suitable for fishing, skiing, and other large areas of the reflective environment. Drivers sometimes have to face the tunnel and another dark scene, the polarized lens is easy to make people suddenly feel dark at the moment. In addition, polarized lenses can make LCD screens and LED traffic lights dim. Therefore, when choosing polarizers, it is best to choose good quality optics, and when going through the tunnel, it is best to take off your glasses ahead of time and blink a lot. Before wearing the driver polarizing lens, try it on and observe whether the polarizing film of the lens is smooth. If the polarizing film is uneven, there will be inflow in the imaging, which may lead to visual fatigue and migraine.
Driving Glasses - KoalaEye
The koala eye driving glasses are stylish, and the material is flexible and elastic. The lens arc fits the face line, which has a very good sense of comfort and balance. Imaging sense is very good, and the color is real and clear. It can effectively relieve eyeglasses eyestrain. Also in the market with excellent quality and simple fashion design, it is loved by the public.
5 Signs You Need Reading Glasses
In this section, we will list some signs you need reading glasses.
You are over 40 years old. Everyone's eyesight changes at a different rate, but most people develop presbyopia in their 40s. Presbyopia is a condition in which the eye strain to focus on nearby objects, which is different from farsightedness, a condition in which you can see distant objects clearly, but objects nearby may be blurry. Farsightedness is usually present at birth, but presbyopia develops during the aging process.
If you find that you never seem to have enough light when reading, regardless of the room type or the number of lamps you have turned on, it may be time to get reading glasses. According to a study, a 60-year-old people requires three times as much light as a 20-year old to do the same task.
If your eyes get tired when reading or working at your computer, you may need reading glasses. Do you find yourself dozing off at your computer, or do your eyelids get heavy when your reading or do detailed work? If so, you may be developing presbyopia, and you may need the reading glasses.
Another sign you need reading glasses is that you are getting more headaches. Consistently straining your eyes to read or focus on craft could give more headaches. A headache right behind your eyes could be indicative of hyperopia. It is important to remember the 20-20-20 rule: every 20 minutes, look at something at least 20 feet away for 20 seconds. If your headaches persist, you should see an eye doctor and have a check.
If you see halos, you may need reading glasses. When your lens cannot focus light into your retina, it makes your vision appear blurry. Thus, reading glasses can solve this problem.
Do I need reading glasses? After reading this post, you may have a basic understanding. If you need a pair of reading glasses, try Koalaeye glasses. They are stylish and cheap, and the glasses will be mailed to you with great convenience.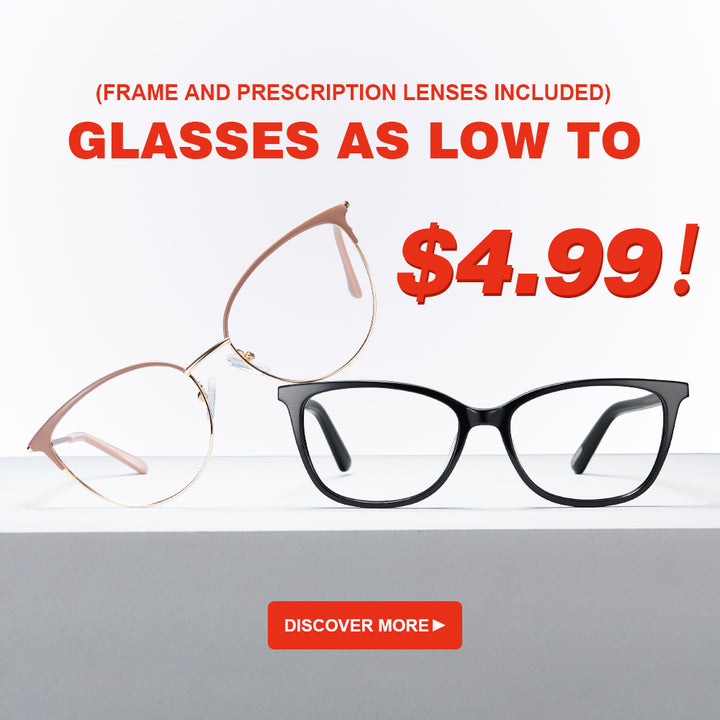 How to Choose Glasses for Diamond Face Shape?
After learning the features of diamond face shape, you should know how to choose glasses for diamond face shape. Since there are a lot of pointed features on the face, the best option is to use eyeglasses that have soft rounded curves instead of harshly pointed angles. So, look at the following advice.
Cat eyeglasses: Cat eyeglasses would be a good choice for a diamond face shape. These glasses frames have rounded bottoms so as to hide away the pointed chin and the narrow jawline of the diamond.
Round eyeglasses: Round eyeglasses are also suitable for diamond face shape because the round curve of the glasses hides the sharpness of the pointed chin. Glasses with colored frames are appealing in the case of diamond face shape people.