How to test a blue-light lens?
Blue light-blocking glasses have many membrane layers, and all kinds of colors of the film are not the same. Actually, the membrane layer of anti-radiation effects is not large but has high strength and chemical resistance of lining norm of glasses and the effect of protection for the eyes is very important.
What are TR90 glasses?
TR-90 (Plastic Titanium) is a kind of polymer material with memory. It is the most popular ultra-light material in the world at present. It has the characteristics of super toughness, collision resistance and abrasion resistance, low friction coefficient, and can effectively prevent the damage caused to the eyes and face due to the fracture and friction of the frame during the movement.
Progressive Lens
Standard progressive lenses are multifocal lenses with three observation areas, farsightedness, intermediate vision, and nearsightedness. Unlike bifocals, there are no visible lines between each viewing area. They have a seamless, invisible design, where the optical power changes 'gradually' throughout the lens. Many people confuse 'bifocal' or 'trifocal' with 'progressive' but remember that bifocals and trifocals have visible lines in the lens, while progressive lenses do not. Because progressive lenses have no lines in the lens, they are more popular multifocal lenses than bifocal lenses.
The main observation area of the progressive lens is a far distance, the smaller area at the bottom of the lens is used for myopia, and the middle area in the middle is smaller. Standard progressive glasses are very suitable for general purpose glasses, focusing on hyperopia activities (such as driving and walking) and sufficient area in the lenses for nearsighted activities (such as reading and computer use). The left and right sides or 'convex corners' of the lens are deliberately blurred to achieve an invisible design. The clearest line of sight in the gradual process is from the center to the top of the lens.
Thick Geometric Frames
Eyewear fashion has changed and evolved over the years. Big, thick frames that are round, rectangular, or even hexagonal are loved by celebrities and attendants. Depending on your face shape, you can choose one of these bolder combinations to highlight or contrast some of your face's most obvious features. Hollywood has officially adopted chunky glasses as a necessary item.
Reduce the amount of time you spend using electronics.
When children are developing their eyes, parents should limit the amount of time they spend with electronic devices. Increase outdoor exercise and combine work and rest. In today's high-pressure and competitive learning environment, children face textbooks, homework, and exams for a long time, and their eyes do not get a good rest. Outdoor sports can effectively relax children's eyes, reduce children's visual fatigue, but also be more conducive to the healthy development of children's bodies and minds.
How do you buy prescription glasses on GlassesUSA?
Fill out a form on their website to enter a prescription, choose to have them follow up and require it later, or use their prescription scanner app on an existing pair of glasses. However, the app isn't always easy to use. You'll need your phone, a computer with enabled cookies, your glasses, and a magnetic stripe card to determine the size.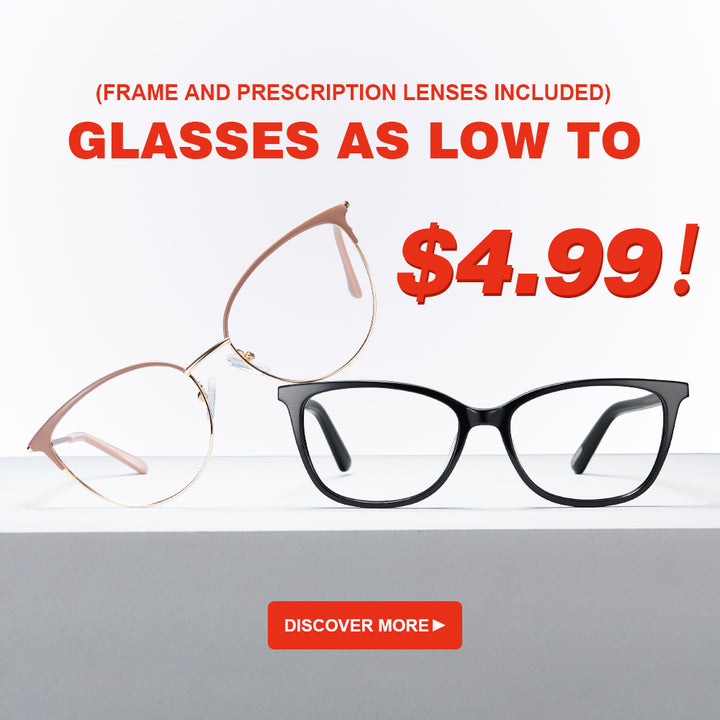 How to test a blue-light lens?
When the glasses are placed in front of a display screen or watched in the environment with LED light, the blue-light-blocking lenses reflect blue lights, while the non-anti-blue lenses do not reflect blue lights. Of course, there are a small number of blue-blocking glasses that reflect green lights.